Deena Pruski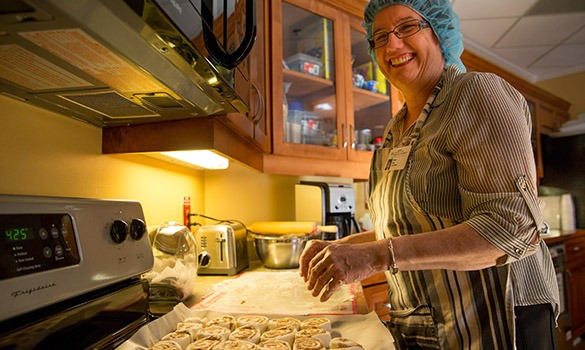 The delicious aroma wafts down the hall and tickles your senses long before you reach the kitchen. That's where Dena Pruski takes out tray after tray of steaming, tightly curled, succulent cinnamon rolls. "I enjoy it, it's a pleasure to come here," Dena says.
She explains her mom was treated in the palliative care unit, and after her death, Dena wanted to give back. "I was lost and I had a space in my life that needed to be filled." Dena bustles around the kitchen in the An Cala unit. And she's not alone in her efforts. Each day of the week there's a different volunteer baking goodies — from cookies to biscuits to shortbreads to banana loaf. The Palliative Care Society stocks the kitchen with all the necessary supplies. And then more volunteers deliver those snacks to the rooms, sit with the patients and visitors. Each week, another volunteer team assembles flowers arrangements and deliver them to all palliative patients. There are seventy-five palliative care volunteers across the district.
Early afternoon on Wednesdays, often people are waiting for the cinnamon bursts of flavour. "I think it gives people a little bit of home where they're not in a great place. After a few days, you get pretty sick of take-out food."
Dena also thinks the warm aromas might awaken people's desire to eat — whether it be the patients or the family members. "Is there a recipe for those?" asks a woman who walks into the kitchen, licking the cinnamon from her fingers. "They're just perfect!" Dean laughs and chats with the woman — and since this not the first time she's received such a request, she's prepared with copies of a handwritten recipe.
When sitting in the kitchen, with people drinking tea, sharing a laugh and a treat, a person can momentarily forget they're in a hospital. "It's a haven," Dena says. "People come to the kitchen for a release."
Moments later: "I just want to shake the hand of the person who made these," exclaims a man who walked into the kitchen, still holding the remaining bite of his cinnamon roll. Dena not only shakes his hand, but she also hugs him and hands over another recipe.
Then, not five minutes later, "Holy jumpins, they're delicious. You don't give out recipes, do you?" asks another happy family member.
It's totally unexpected," Dena says of the home-baked treats. "Cape Bretoners gather in the kitchen," Dena says laughing. "Families aren't by themselves, and the sweets remind them of what their mothers and grandmothers used to make." For Dena herself, she says she loves it. "People ask me, 'isn't it depressing?' But it's not. It's rewarding. There's nothing better than a family who has someone actively dying, but they can sit here, chat and share stories. It's good for the soul."
---
Cinnamon Rolls Recipe
Cinnamon Rolls
2 cups of flour
4 tsp baking powder
1 tsp salt
1 cup milk
1/2 cup shortening
Mix dry ingredients and then cut in shortening. Mix in milk and knead ten times.
Middle
1/2 cup butter
1 cup brown sugar
1 heaping tsp cinnamon
Soften butter. Mix in sugar and cinnamon to make the paste. Roll dough and spread with the cinnamon mix. Roll up and cut into pieces.
Bake at 425 for 18-20 minutes.
Enjoy!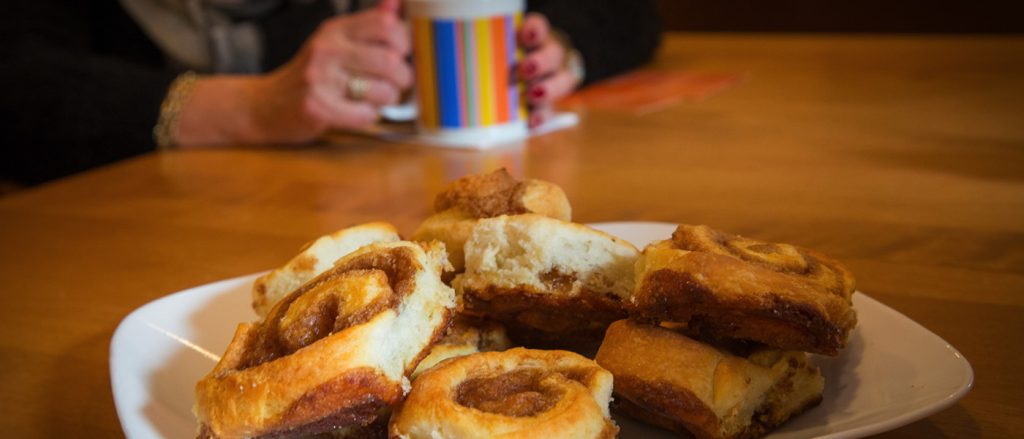 -->